UTC Ice Piranhas Tournament Teams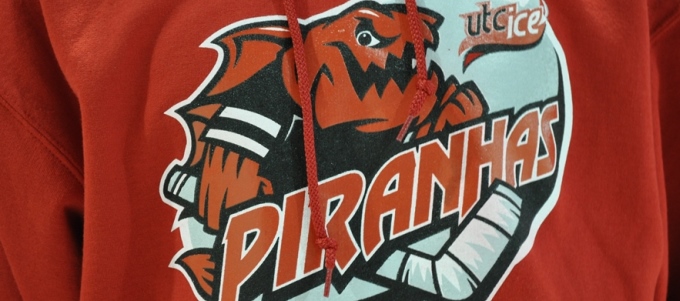 UTC Ice Piranha Tournament Teams are the next level in hockey. Teams are not open to everyone; only select players are chosen to be on the team. Tournament Team Players are selected by the Piranha coaching staff and Youth Hockey Director at the Try -Outs.
SEASON INFORMATION
The Season will run from September 2015 to March 2016 and will include the following:
Two practices per week
One game per week
Minimum of 3 tournaments
Includes: Weekly 2 practices and 1 game, 3 Tournament
Season: Begins September 2015 to End of March 2016
ADDITIONAL INFORMATION
9 Tips for Piranhas Tournament Team Hockey Tryouts
It's that time of year again – tryouts for youth hockey teams.For parents tryouts are often a stressful time. It's hard to know what the coaches are looking for and how they're evaluating the kids. You see your son or daughter working hard and competing, but you wonder – what's the reason my child made, or didn't make, a particular team? Whatever level of youth hockey your child plays here are 9 helpful tips to better understand what the coaches are evaluating.
Fundamentals
1. Skating. How well does your child skate? Forward? Backward? Crossovers? Quick starts & stops? Balance and edges? Do they get from point A to B quickly? Do they tire easily when skating? Or are they in shape?
2. Stick handling. Can he or she carry the puck with their head up and not looking down? Is your young player able to stickhandle and deke without losing the puck? Are they able to protect the puck against defenders and create time and space to make smart plays?
3. Passing. Do they pass crisply on both a forehand and backhand? Do they look where they're passing? Is he or she able to lead the receiver and deliver a "tape-to-tape" pass that allows your teammate to skate with the puck without having to slow down, stop or chase an errant pass? Does your player catch the puck well on both forehand and backhand? Do they show "soft hands" (cradling the puck when receiving a pass so that it doesn't bounce off the stick blade)? When catching a pass are they in a good position to shoot, pass or make a play?
4. Shooting. Does your child have an accurate forehand, and backhand, wrist shot? Can they shoot with their head up and with their body in proper position facing the target (goal)? Do they follow their shot and stop in front of the net (rebounds)?
Can your child catch and shoot quickly? Are they able to look at how the goalie is positioned and then take an accurate shot that hits a specific part of the net? Far too many young players either miss the net or put their shot straight into the goalie.
5. Body Contact. Among mite and squirt age children (6-12) checking isn't allowed or part of the game. Nor should it be. However, angling and body positioning are quite important. Is your child able to take a good pursuit angle to the puck? Can he or she "squeeze out" the player with the puck? Do they control their gaps when playing defense and back checking? Are they strong on their skates? Or does the slightest contact knock them off balance, off the puck and out of the play?
6. Position Play. Does your child understand his or her position? If put on left wing, do they play the left side? Or are they a "puck chaser" who follows the puck everywhere getting out of position? If put on defense, does he or she stand at the blue line watching the play in the offensive zone? Or is he or she actively moving without the puck to help out and create better opportunities to score? Every player has a job to do, and if you're young player wants to stand out, he or she needs to understand that role and make smart plays from their position.
Intangibles
7. Attitude. Does your young player come to practice to learn? Does he or she try hard every play, every drill? Are they a selfish player, or an unselfish one who helps his or her teammates? Do they take criticism constructively? Or do they get upset when the coach calls them out for making a mistake – especially one that shows he or she is simply not concentrating or thinking about how they're playing and what they're doing?
8. Effort. Does your young player skate hard without the puck? Or do they only try hard when they have it? Do they skate as hard as they can in every drill? Or if the coach isn't watching do they take it easy? How well do they listen to the coaches, both on the ice and in the locker room? Strong effort is both physical and mental. And the young players who demonstrate a willingness to work hard in both these areas usually stand out from those who don't.
9. Sportsmanship. Is your young player a competitor? Do they enjoy battling and competing? Do they play the game hard, but fairly? Or do they get angry and frustrated when something doesn't go their way? Do they give up and shut down when they're being beat? Can they support their teammates on the ice, even if they're on the bench for an extra shift or two?
Putting together a competitive tournament hockey team, like any other sport, requires coaches to look at both fundamentals and intangibles to get the right mix of talent, skill and teamwork.
Coaches don't always get it right. Sometimes teams with tons of talent don't do well. Other times the teams, and kids, you thought weren't that skilled, surprise you and improve far beyond your initial expectations.
Tournament hockey is first and foremost a team sport. And sometimes in our desire to help our kids improve their individual skills, we parents fail to teach our young players the full value of being a good team player.
It's my hope that by better understanding what coaches are looking for at tryouts – and during everyday practice – you can help your child prepare to do his or her best.
Contact Information