Updated Calendar
Freestyle Diagram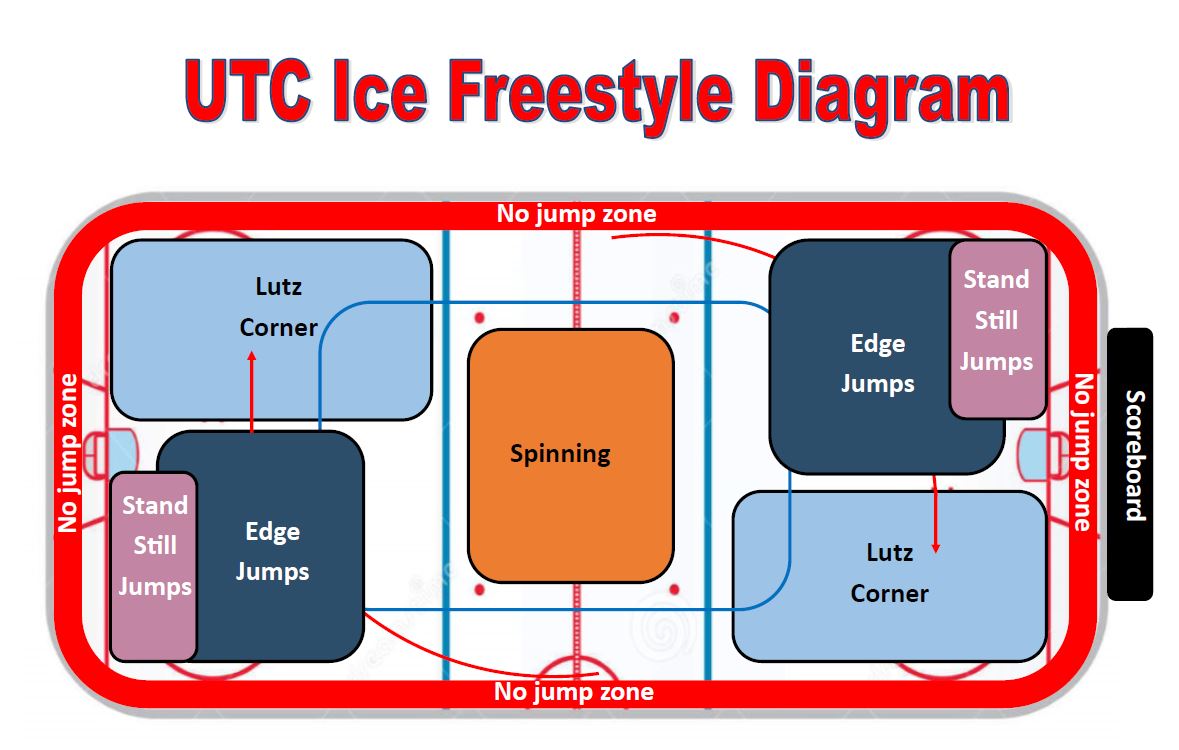 Freestyle Sessions
Freestyle sessions are for advanced figure skaters who are training for competitions. During freestyle sessions, skaters have access to the sound system so that they may play their competition program music.
During Freestyle sessions, it is expected that all individuals are aware of other skaters and coaches. First right-of-way should be given to a skater performing their program to music. Second right-of-way should be given to skaters in private lessons.
To encourage independent working and proper training habits, parents are encouraged to sit in the stands and are not permitted to stand in the doorways. Special video and harness lessons are available on freestyle sessions.
Times may change.  Please check above for exact schedule.
Monday and  Wednesday Morning
5:15AM – 9:00AM
Tuesday and Thursday Morning
5:15AM – 10:20AM
Tuesday Afternoon
3:30PM-4:30PM
Fridays
6:30AM to 9:30AM
3:50PM to 4:50PM
Saturday Freestyles:
6:25AM – 7:25AM (MUST be in Freeskate 6+)
8:05AM – 9:05AM (MUST be in Basic 8-Freeskate 3)
Saturday Stroking Class:
7:25AM – 7:55AM (High Stroking)
9:05AM – 9:35AM (Low Stroking /Axel Harness)
*Saturday Freestyles: Skaters MUST skate for the full hour. Session starts at 6:15am and at 8:00am. The doors close 5 minutes after start of session and late-comers will not be allowed on the ice.
Freestyle session times remain the same time throughout the year with the exception of competition weekends hosted at UTC Ice. Times are subject to change, so please refer to our schedule for updated Freestyle schedules.
Price:
Morning Sessions  – $13.00 per hour
Afternoon Sessions -$15.00 per hour
Purchase a Fun Card in the Pro shop or On-line
$50 = $55 fun card dollar credits -10% Savings
$100 = $115 fun card dollar credits – 15% Savings
$200 = $230 fun card dollar credits – 15% Savings
VISITING COACHES:
If you are a coach visiting from out of town and are interested in getting onto the ice with your skater, we will need a copy of your insurance and insurance card at least one week prior to your visit with us. In order for your visit to run smoothly and for us to be as accommodating as possible, we will need all of the proper paperwork that is required. Thank you!
FREESTYLE RULES AND PROCEDURES
All coaches and skaters are expected to show respect and good sportsmanship at all times.
Checking in, Fees, Coaches
1. On morning Freestyles, skaters are to sign in on the "Freestyle Sign In" board prior to stepping on the ice. Types of payments are to be clarified as either "Fun Card (FC)" or cash/check. Cash/check payments are to be placed in the Cash Box placed directly on the board. On afternoon Freestyles, skaters are to sign in and pay at the Box Office before the session.
2. All fees must be paid prior to skating on Freestyle.
3. The Fun Card balance sheet is updated daily and posted on the board. Skaters who are found to have negative balances on their Fun Card are unable to skate until dues are paid.
4. Freestyle sessions are permitted to UTC Ice coaches only unless authorized by UTC Ice Management and the Figure Skating Director. Pro fees are to be paid prior to stepping out on the ice.
On-Ice Etiquette
1. Both skaters and coaches are to always be aware of jump patterns and programs. Standing idly in the middle is disruptive to the flow of the session – this must be avoided at all times. If a break is needed, please do so at the boards.
2. Limit the amount of talking to other skaters. Again, this is disruptive to everyone on the session.
3. "Right of way" goes to the following: a. Skaters running programs b. Skaters in lessons
4. Be understanding if another skater or coach gets in the way of your pattern. Everyone is always learning how to properly skate on Freestyle.
5. Everyone is responsible for keeping the ice clean. Discard all tissues, trash, etc. in garbage bins.
Playing Music
1. Program music is allowed during Freestyle.
2. An auxiliary cord is available to plug into devices such as phones, iPods, portable CD stereos, etc.
3. The order in which music is played:
a. Coach – Skater – Coach – Skater
b. Allow for other skaters and coaches who have not yet played their programs on the session.
4. Program belts are to be worn during routines.
Other
1. Parents must view practice on the benches or lobby area, they are not allowed to interfere with Freestyle sessions by standing and talking at the entrance to the ice.
2. Good behavior is expected at all times. The following behaviors will result in being asked to leave the ice and/or the facility immediately for an indefinite period of time. These prohibited behaviors will not be tolerated in any way:
a. Kicking (the ice or boards), digging holes, or stomping
b. Purposefully challenging, scaring or blocking another skater
c. Videotaping anyone other than your own skater without permission