Spring/Summer 2020 Season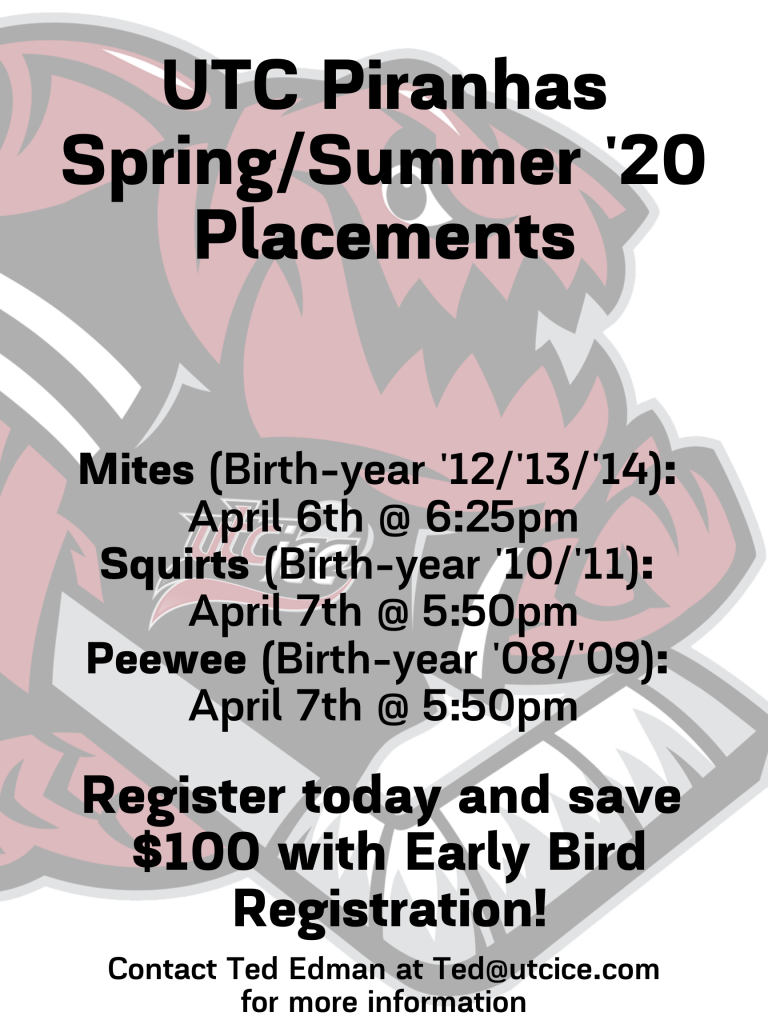 Registration Checklist
Registration paperwork must be completed before placement practice.
USA Hockey must be renewed for 19-20 season and attached with registration. Complete here
Birth certificates must be scanned in proshop for all new players.
Mites (2012 and younger): April 6th at 6:25pm
Squirts (2010 & 2011): April 7th at 5:50pm
Peewee (2008 & 2009): April 7th at 5:50pm
See below for practice times and season length.
The Piranhas House league is designed for players who want to enjoy the game in a fun and competitive way. Games are played throughout the county of San Diego on the weekends, and practices are held at UTC.
When signing up for the team you are committing for the entire season and therefore will be charged the entire amount of the program cost. There will be no pro-ration given.
Players must have passed Hockey Academy 3 or equivalent
Public Skating, end of season team party, participation awards.
We cap our seasons off with a parent/player hockey game and skills competition, pizza parties and an awards ceremony.
Fall/Winter September 3rd – March 22nd, 2020
Mite (Born 2011 or later): Monday 6:25pm-7:25pm
Squirt (Born 2010/2009): Tuesday 5:50pm-6:50pm & Friday 5:00pm-6:00pm
Peewee (Born 2008/2007): Tuesday 5:50pm-6:50pm & Friday 6:10pm-7:10pm
Games are played on Saturday or Sunday. Please visit our 
House Hockey Schedule
 for the most up to date times.
Full H.E.C.C. gear, Mouth guard and Neck guard.