Come try synchronized ice skating!
Learn new tricks, improve your skating skills, and make new friends!
It is a team sport in which 8 to 20 skaters perform a program together. It is characterized by teamwork, speed, intricate formation and challenging save step sequences.
Perform with us at UTC's annual Halloween skate and our Winter Celebration holiday show!
Synchro Skills is a specialty class offered by our Skating Academy. It takes place during Skating Academy on Saturdays at 10:05am.
Requirements:
-Freeskate 1 and up
-One Skating Academy "Freeskate" class – anytime during the week
-Intro to Skating Skills OR Stroking class
-Highly recommended : Weekly private lesson with a coach – with a balanced focus on Freestyle
skating/Moves in the Field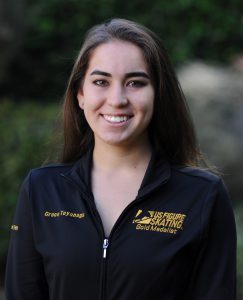 Grace Toyonaga
"I have been involved in synchronized skating since 2011 and am a three-time national level competitor. I have experience as an assistant coach and am a USFS Gold Medalist in Moves in the Field. I fell in love with synchro and the lessons I learned. Now, I hope to pass on my passion for the sport!"